2012 Philosateleian Post Stamps to Honor Ohio Native, Nature
Jacksonville, Fla., USA, December 18, 2011—Philosateleian Post today announced its 2012 stamp program. Three new designs are planned for the coming year.
Aunt Donna (1933–2011)
On January 30, 2012—World Local Post Day—Philosateleian Post will issue a special stamp commemorating Aunt Donna, who died unexpectedly earlier this year. The Ohio native was not a blood relative of Philosateleian Post's proprietor, Kevin Blackston, but she provided friendship and encouragement through a series of letters written over a span of nearly two decades.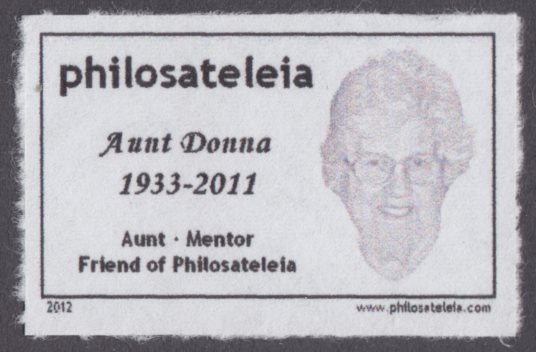 "Aunt Donna influenced me greatly through her friendship," says Blackston, "and I'll always appreciate the interest she took in me and my interests, especially stamp collecting. Were it not for her support, Philosateleian Post might very well not exist today."
2012 will be the second consecutive year in which Philosateleian Post has issued a stamp on World Local Post Day.
Ducks
After taking a break from stamps picturing flora and fauna in 2011, Philosateleian Post will in 2012 once again issue a wildlife stamp. The new design features a mother duck and four ducklings.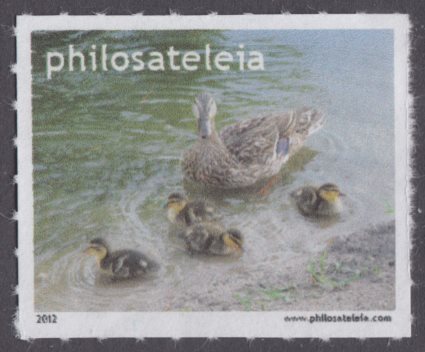 This duck stamp will be issued on June 1, just a few weeks prior to the release of a new United States federal hunting permit stamp.
Ruby Falls
The final new issue of 2012 will be a stamp depicting Ruby Falls, an underground waterfall located in the Chattanooga, Tennessee, area. The stamp will be issued in September. The exact date of issue will be announced later.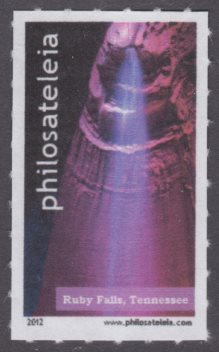 Ruby Falls, which plunge 145 feet into a pool that eventually drains to the Tennessee River, were discovered in 1928 by Leo Lambert. The falls are named after Lambert's wife, Ruby.
Philatelic Services
For a complimentary mint single of any of Philosateleian Post's 2012 stamps, or to receive first day cover service, send a SASE and your request to:
Kevin Blackston
Philosateleian Post
PO Box 57622
Jacksonville FL 32241-7622
United States of America
About Philosateleian Post
Founded in 2004, Philosateleian Post transports mail only from the Philosateleian Embassy to the nearest mail receptacle or post office. This private local post exists solely for the enjoyment of its proprietor and does not compete with any official mail service. For more information, please visit http://www.philosateleia.com/post/
Published 2018-06-17