Philosateleian Post Celebrating 10th Anniversary
Jacksonville, Fla., USA, December 11, 2013—In celebration of its 10th anniversary, Philosateleian Post is offering all interested collectors the opportunity to request a special commemorative stamp for free. The stamp, which is scheduled to be issued on World Local Post Day, January 27, 2014, depicts the Jacksonville, Fla.-based private local post's handstamp and a reproduction of its cancellation.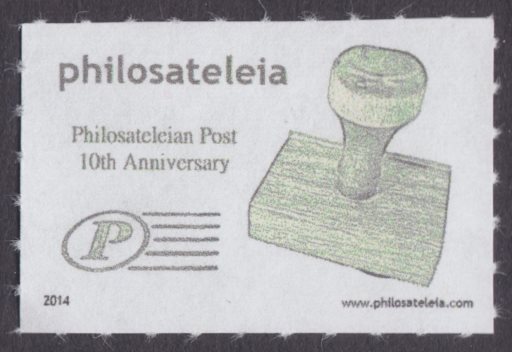 Philosateleian Post began operations in Valdosta, Ga., on January 7, 2004. Since that time, the Post has carried hundreds of letters, post cards, and packages.
"It's hard to believe I've been local posting for a decade already," says Kevin Blackston, Philosateleian Post's proprietor. "I'd like to think my stamp designing skills have improved, if nothing else."
Philosateleia's official flag was the subject of Philosateleian Post's very first stamp. Subsequent issues have pictured landscapes, animals, and notable individuals.
Technical Specifications
Format: sheets of 42 (6×7). Design size: 36×21 mm. Separation method: roulette 5½ (approx.). Adhesive: none; applied at time of use. Printing method: inkjet.
Philatelic Services
For a complimentary mint single of Philosateleian Post's 10th Anniversary stamp, or to receive first day cover service, send a SASE and your request to:
Kevin Blackston
Philosateleian Post
PO Box 57622
Jacksonville FL 32241-7622
United States of America
About Philosateleian Post
Founded in 2004, Philosateleian Post transports mail only from the Philosateleian Embassy to the nearest mail receptacle or post office. This private local post exists solely for the enjoyment of its proprietor and does not compete with any official mail service. For more information, please visit http://www.philosateleia.com/post/
Published 2018-06-17