I'Inzia Falls
Democratic Republic of the Congo
Based on its depiction on a stamp issued by Zaire, the former name of the Democratic Republic of the Congo, in 1979, it seems virtually certain that I'Inzia Falls are located in that African nation—more than likely somewhere along the Inzia River.1 The Internet is remarkably devoid of references, however, and the exact location of the falls is unclear.
I'Inzia Falls are better known to stamp collectors as Finzia Falls due to an apparent typographical error in the Scott Standard Postage Stamp Catalogue.2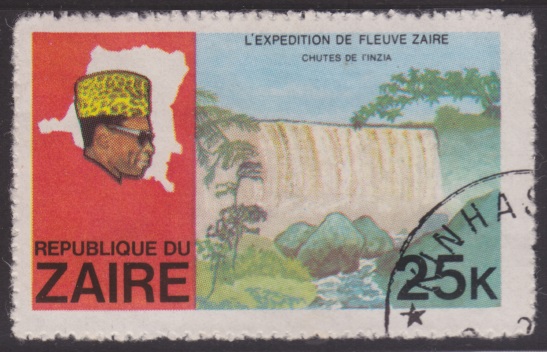 References
Inzia Falls. Mountainstamp.com. Accessed 4 Feb. 2014.
Kloetzel, James, ed. Scott 1998 Standard Postal Stamp Catalogue, Volume 6. Sidney, Ohio: Scott Publishing Co., 1997.
Published 2018-06-18 Last updated 2021-01-17