Brook
New Hampshire, USA
It is hard to travel far in New Hampshire without coming across a river. The Merrimack and Connecticut Rivers are the most prominent, but many smaller waterways like the brook pictured on the local post stamp below also exist.1
The design of the stamp, which was produced by Scott Abbot's Purgatory Post, is based on an oil painting by Chauncey Ryder, an American artist who worked extensively in the Northeast.2 The painting is believed to have been inspired by scenery in southern New Hampshire.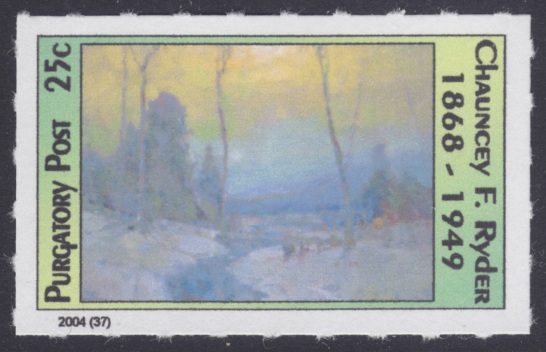 Next: Bryce Canyon
References
New Hampshire Lakes, Rivers, and Water Resources. Geology.com. Accessed 25 Oct. 2012.
Abbot, Scott. "Re: Questions About Purgatory Post Stamps." E-mail to Kevin Blackston. 10 Jan. 2012.
Published 2018-06-18