60¢ Grand Canyon
If at first you don't succeed, try again. If things don't work out the second time, maybe it's best to just move on. That's the approach the USPS took with the 60¢ Grand Canyon issue of 2000, a stamp that was printed twice and still came out wrong.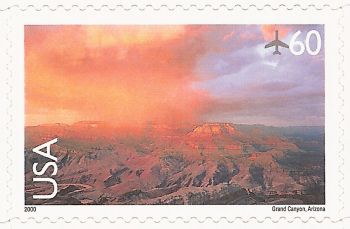 The saga began after the stamps were printed in 1999. It was then, and only then, that someone noticed the caption below the picture was incorrect, reading "Grand Canyon, Colorado."1 The Grand Canyon is, of course, in Arizona.
Oops.
At a cost of about $500,000, officials decided to destroy all 100 million stamps they had produced and reprint the stamps with correct wording. The revised stamps went on sale in January 2000, and everybody was happy until a park ranger pointed out that the picture of the Grand Canyon had somehow been flipped horizontally during the production process, creating a mirror image of the scene.
Oops again.
How did the mistakes go unnoticed? The USPS's Office of Inspector General determined the original "Colorado" printing slipped through because the USPS failed to follow its own quality control procedures.2 In addition, those procedures even when followed were "not sufficient to detect reversed images on the stamps." New control policies were implemented soon after the reversed image was reported.
With the stamps already on sale, officials decided against a second do-over, and the issue filled the 60¢ rate until the Acadia National Park design from the same series replaced it the next year.
Next: Airmail Special Delivery 1934–36
References
National News Briefs; Second Flaw Found In Grand Canyon Stamp. New York Times. 3 Feb. 2000. Accessed 5 Aug. 2008.
Grand Canyon Stamp - Review of Production Internal Controls. Office of Inspector General. 27 Mar. 2000. Accessed 5 Aug. 2008.
Published 2018-06-19