1923
Following President Warren G. Harding's death in 1923, a black mourning stamp was prepared to commemorate his life. The 2¢ stamp printed with flat plates was issued perf. 11 and imperforate, and the same design printed on rotary presses was perf. 10, the larger gauge helping to prevent accidental separation of the stamps.
A few rotary press stamps were also issued perf. 11, the same as the flat plate printed stamps. Specialists can identify those rarities based on slight differences in the size of the printed stamps.
The design of the 2¢ Harding stamp was reused (minus the dates of Harding's birth and death) on a 1½¢ stamp from the 1922–32 fourth Bureau issue.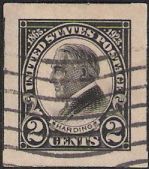 Next: 1924 Huguenot-Walloon Tercentenary
Published 2018-06-19