1908–22 Washington-Franklins
At first glance, the third Bureau issue, commonly referred to as the Washington-Franklins, looks simple. The same frame was used for all values of $1 or below, and only two subjects—George Washington and Benjamin Franklin—were featured in the vignettes. Nevertheless, multiple dies, perforation gauges, and watermark varieties were used, making this arguably the most complex stamp series the United States has ever produced.
The first of the Washington-Franklins were issued in 1908 on paper watermarked with a double-line "USPS" and perf. 12, while a change to a single-line watermark in 1910 created an additional subset.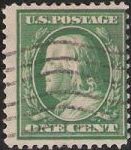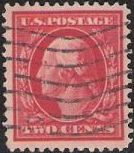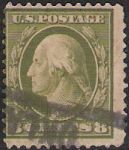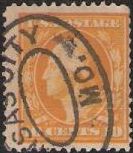 In 1912, the 1¢ and 2¢ designs were reworked to replace the spelled out values with numerals, making them consistent with the rest of the series. In addition, George Washington replaced Benjamin Franklin on the 1¢ stamp, while Franklin's portrait replaced Washington's on all stamps with face values of 8¢ and up.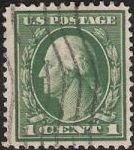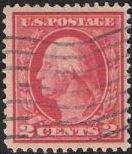 Next, stamps were produced perf. 10. Soon after, the post office switched to unwatermarked paper for postage stamps while keeping the same perforation gauge.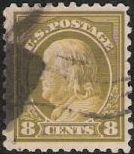 Beginning in 1917, stamps were issueded perf. 11, which became the new standard for stamps printed from flat plates.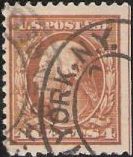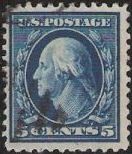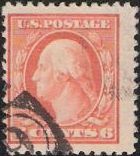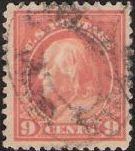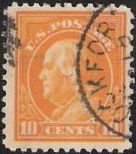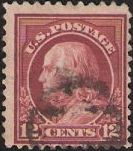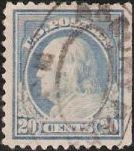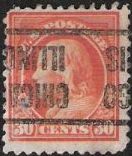 During World War I, stamps were printed on offset presses, leading to yet more varieties of the 1¢–3¢ stamps.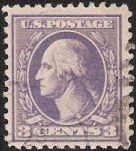 $2 and $5 stamps picturing Franklin were also introduced for packages needing large amounts of postage.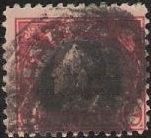 Several values were produced in coils throughout the entire time span, and several different perforation gauges can be found on those, some of which are scarce. In addition, some values from the series were issued imperforate so that private vending machine manufacturers could create their own coils.
Finally, specialists identify various types of the 2¢ and 3¢ stamps that can be distinguished only by minor differences in the designs, along with a few other varieties that feature experimental paper and unusual perforation gauges.
Next: 1909
Published 2018-06-19 Last updated 2018-06-20