Stamp Picturing Guadalupe River to be Released June 1
Jacksonville, Fla., USA, May 4, 2011—Summer is rapidly approaching, and many Americans will soon be taking to the nation's waterways to cool off. One of those waterways is the Guadalupe River, which will be featured on Philosateleian Post's newest stamp.
The stamp, which is scheduled to be issued June 1, pictures a peaceful sunset over the river.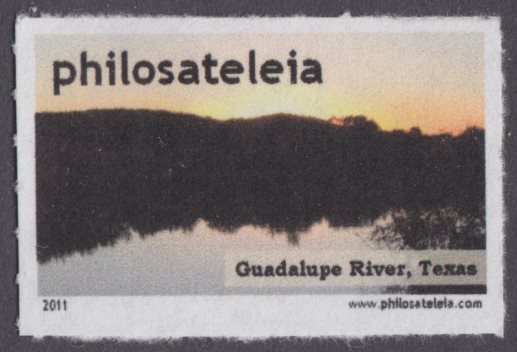 From its source in Kerr County, Texas, the Guadalupe River flows approximately 230 miles to the Gulf of Mexico. During the summer months, the river is a popular spot for canoeing, tubing, and fishing.
"The Guadalupe is a beautiful river beloved both for its recreational activities and for its status as a location in which one may quietly reflect on life's vicissitudes," says Kevin Blackston, proprietor of Philosateleian Post. "It is a privilege to be able to recognize the river with this commemorative stamp."
Philosateleian Post is committed to commemorating scenic landscapes. In the past, the local post has issued stamps featuring various views including Carters Lake, Ga., the Intracoastal Waterway, Ga., and Jekyll Island, Ga.
Technical Specifications
Format: sheets of 42 (6×7). Design size: 36×21 mm. Separation method: roulette 5½ (approx.). Adhesive: none; applied at time of use. Printing method: inkjet.
Philatelic Services
For a complimentary mint single of the Guadalupe River stamp, or to receive first day cover service, send a SASE and your request to:
Kevin Blackston
Philosateleian Post
PO Box 57622
Jacksonville FL 32241-7622
United States of America
About Philosateleian Post
Founded in 2004, Philosateleian Post transports mail only from the Philosateleian Embassy to the nearest mail receptacle or post office. This private local post exists solely for the enjoyment of its proprietor and does not compete with any official mail service. For more information, please visit http://www.philosateleia.com/post/
Published 2018-06-17