Where is that sunny coast?
I'm in the process of creating pages for my landscape stamp collection, and each page bears the name of the natural feature depicted on the stamp(s) it holds. That works just fine until I run across a stamp with a scene I can't identify.
Such was the case with this 45¢ airmail stamp issued by the U.S. in 1990. It's obviously a tropical island—but where?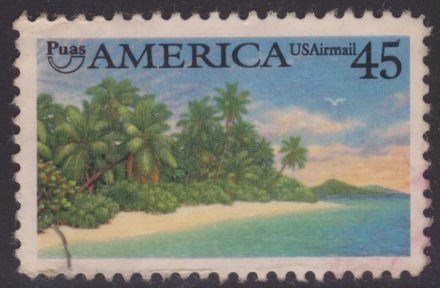 For an answer, I contacted Mark Hess, the designer of this stamp and several others. I asked whether he had a specific location in mind when he created the design, or if it was intended to be a generic piece.
Mark was nice enough to respond, and wrote:
"The tropical image was a conceptualized idea of Columbus' first visits to the continent; i.e., the tropical islands of the Caribbean. My initial painting included more palms and banana plants, however expert 'checkers' reported that many of these seemingly indigenous plants were actually transplants brought to the islands for commercial reasons and so were removed…

"So, in answer to your question, the tropical scene was intended to be the Caribbean, but in a generic way."
That's good enough for me. For my album page, I went with the heading "Tropical Coast, Caribbean Sea."
Published 2011-03-24