Southworth perforator for sale in Portland, Oregon
Southworth perforator for sale in Portland, Oregon
A Southworth treadle perforator has turned up for sale in Portland, Oregon, and the seller, Niko, shared a photo for me to share with you.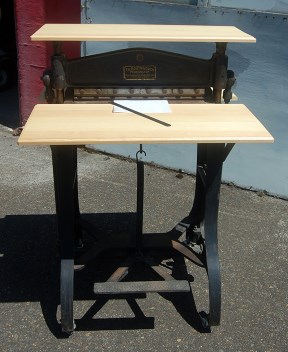 The perforator "has a new wood table top and shelf, and I added heavy duty casters," writes Niko. "It's a beauty, but I only have room for so many of them." (These old perforators are heavy, so I have no doubt the addition of the casters makes this example a lot easier to move.)
Niko is asking $900 for his perforator. If you're interested, please let me know and I'll put you in touch with him.
Published 2018-05-06