Solo usage of 14¢ American Indian stamp turns up in Sweden
I recently received a very interesting e-mail from a collector regarding the 14¢ American Indian stamp. Sören Andersson, webmaster for the Swedish Postal History Society, sent an image of a parcel wrapper bearing the stamp, and he has generously given me permission to share the picture with you.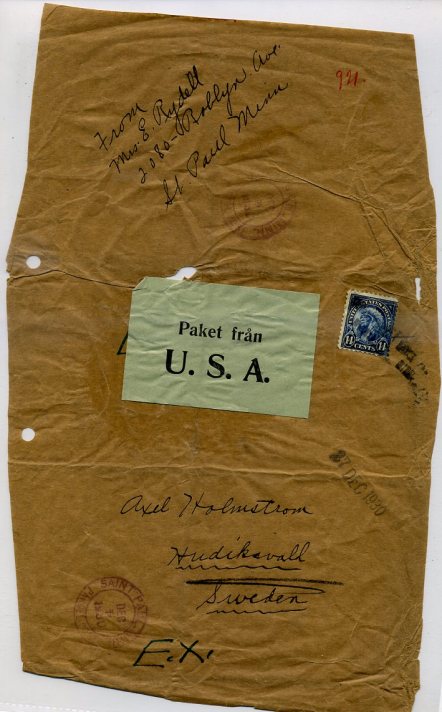 According to Mr. Andersson, the 14¢ stamp correctly paid postage for a 1-pound parcel mailed from St. Paul, Minnesota, to Sweden in 1930, the year the wrapper was postmarked.
As you may be aware, solo commercial usages of the 14¢ American Indian stamp are, as is sometimes said in the South, "scarcer than hens' teeth." I have two covers in my personal collection on which the Indian stamp traveled solo, but one is a FDC, and the other is a first flight cover. This is the first example I've seen of the stamp on a parcel wrapper, and one can only assume even fewer wrappers survived than covers featuring solo usages of this stamp.
Do you have any other examples of the 14¢ American Indian used by itself on a wrapper? How about on a wrapper sent to Sweden? If you know of any, please let us know, and we'll pass the information along to Mr. Andersson.
Published 2013-01-01